Doppelherz aktiv Men Active
Lactosefree
Glutenfree
Men Active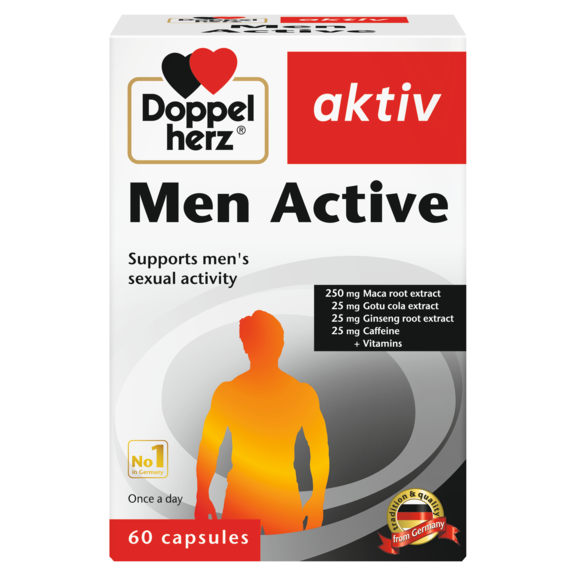 ---
Supports men's sexual activity

with 250 mg Maca root extract, 25 mg Gotu cola extract, 25 mg Ginseng root extract and 25 mg Caffeine
Lactosefree
Glutenfree
---
Supports men's sexual activity
For men who suffer from moderate erectile dysfunction and those who want to increase their libido and their sexual potency, Doppelherz® created Men Active from a selection of herbal extracts, vitamins and minerals known for their beneficial effect on the male reproductive tract.
Maca, also called Peruvian ginseng, was used by Inca warriors before the battle to increase their bravery and their thirst to victory. Maca acts on the metabolism of nitric oxide, which is released after sexual stimulation to initiate penis erection. On the long term, Maca has a positive influence on the mood and the mind by moderating stress perception and therefore helps to regain self-confidence.
Ginseng extract and Caffeine have energizing and strengthening effects. The Gotu cola extract improves peripheral circulation and blood supply to genital organs. Zinc helps maintain high levels of testosterone, while Selenium and Vitamin E are important for sperm formation.
Composition
| Ingredients | per capsule |
| --- | --- |
| Maca root extract | 250 mg |
| Gotu cola extract | 25 mg |
| Ginseng root extract | 25 mg |
| Caffeine | 25 mg |
| Vitamin E | 5 mg |
| Zinc | 7,5 mg |
| Selenium | 25 µg |
Consumption recommendation
Take 1 capsule daily at meal with enough liquid. Do not chew.
Note
Do not exceed the stated recommended daily dosage! Food supplements should not be used as a substitute for a varied diet. The product should be stored out of the reach of children.
Ingredients
Soybean oil, Lepydium peruvianum roots extract (Maca), Gelatin (bovine), Coconut oil, Glycerol, Sorbitol, Centella asiatica herb extract, Ginseng root extract, Caeine, Lecithins (soy), Mono- and diglycerides of fatty acids, Zinc oxide, D-alpha-Tocopherol (Vitamin E), Iron oxides and hydroxides, Sodium selenite.
Reviews
No ratings have been submitted yet. Submit your first review here.