Doppelherz aktiv Active D3 Drops
Lactosefree
Glutenfree
Active D3 Drops
83.300 IU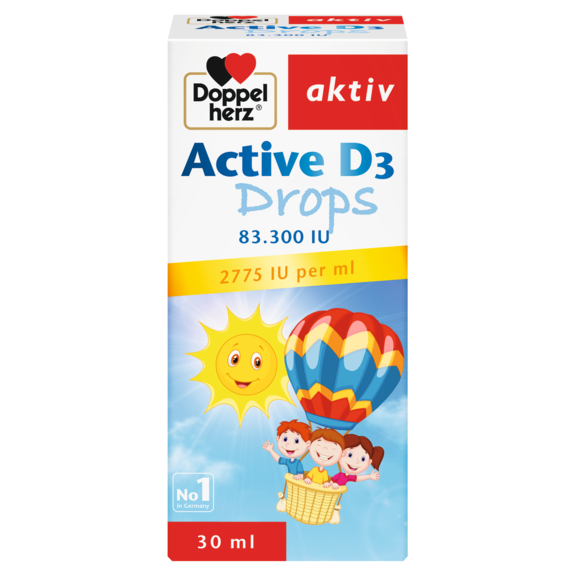 ---
2775 IU vitamin D3 per ml

Important for heahlty bones and teeth

For children above the age of 1 year
Lactosefree
Glutenfree
---
Vitamin D3 is needed by the organism to absorb and use calcium in an effcient way to build and maintain bones and teeth.
Vitamin D3 is called the sunshine vitamin because it might be synthesized in our skin when it is exposed to suffcient sunlight. Vitamin D3 that is obtained from food sources works equally good to support bones and teeth health.
For infants who are usually voluntarily kept away from direct sun exposure, the only way to supply them with enough vitamin D is through breast or formula milk. Adding a vitamin D3 supplement to their diet might be useful to be sure that proper amounts of vitamin D are supporting healthy bones and teeth formation.
Doppelherz Active D3 drops provide 100 IU (2.5 μg) vitamin D3 per drop in pure sunflower oil, without preservatives. Its neutral taste makes it ideal for infants and children.
Consumption recommendation
Children 1-3 years: 4 drops (400 IU =10 μg) per day.
Children 3-12 years: 8 drops (800 IU = 20 μg) per day.
Use for infants under 1 year only after consultation with a doctor.
Note
Do not exceed the stated recommended daily dosage! Food supplements should not be used as a substitiute for a varied diet. The product should be stored out of the reach of children.
Ingredients
Sunflower oil, Cholecalciferol (Vitamin D3), Tocopherol-rich extract.
Reviews
No ratings have been submitted yet. Submit your first review here.