Doppelherz aktiv Liver Complex
Lactosefree
Glutenfree
Liver Complex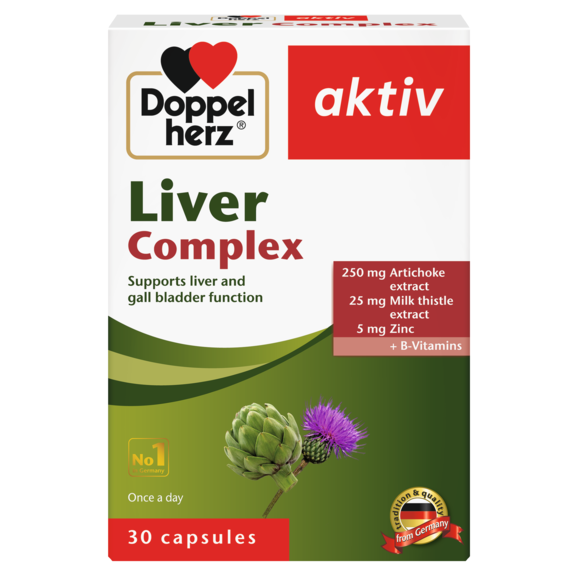 ---
Supports liver and gall bladder function

Contains both: Artichoke extract and milk thistle extract

Only once a day
Lactosefree
Glutenfree
---
Regular consumption of alcohol and repetitive intake of fatty meals may strain the liver and affect its function.
Despite its capacity to partially regenerate itself, the liver should be taking care of since it is critical for proper digestion and for the detoxification of harmful metabolites. Artichoke and milk thistle are two traditionally-used herbs that help maintain liver health.
Artichoke is a unique plant which has been long appreciated for its stimulating properties on the function of the liver. One of its active substances, cynarine, stimulates bile flow thereby aiding digestion. Milk thistle is a Mediterranean plant well-known in this area as a liver tonic. It contains high amounts of silymarin, a mixture of flavonolignans that increase the activity of enzymes in the liver to detoxify harmful substances.
Doppelherz aktiv Liver Complex contains both artichoke and milk thistle extracts to help better digest heavy meals as well as protect and regenerate over strained liver tissue. In addition, zinc and B-vitamins contribute to the proper function of key metabolic pathways taking place in the liver.
Composition
| Composition | per capsule |
| --- | --- |
| Artichoke extract | 250 mg |
| Milk thistle extract | 25 mg |
| Zinc | 5 mg |
| Pantothenic acid | 3 mg |
| Vitamin B1 | 0,55 mg |
| Vitamin B2 | 0,7 mg |
| Vitamin B6 | 0,7 mg |
Consumption recommendation
Take 1 capsule daily at meal with enough liquid. Do not chew.
Note
Do not exceed the stated recommended daily dosage! Food supplements should not be used as a substitute for a varied diet. The product should be stored out of the reach of children.
Ingredients
Artichoke leaves extract, Dicalcium phosphate, Gelatin (bovine), Milk thistle extract, Zinc carbonate, Calcium-D-pantothenate (Pantothenic acid), Magnesium salts of fatty acids, Iron oxides and hydroxides, Pyridoxine hydrochloride (Vitamin B6), Riboflavin (Vitamin B2), Thiamin hydrochloride (Vitamin B1).
Reviews
No ratings have been submitted yet. Submit your first review here.