Doppelherz aktiv Eye Vital
Lactosefree
Glutenfree
Eye Vital
with Lutein + Zeaxanthin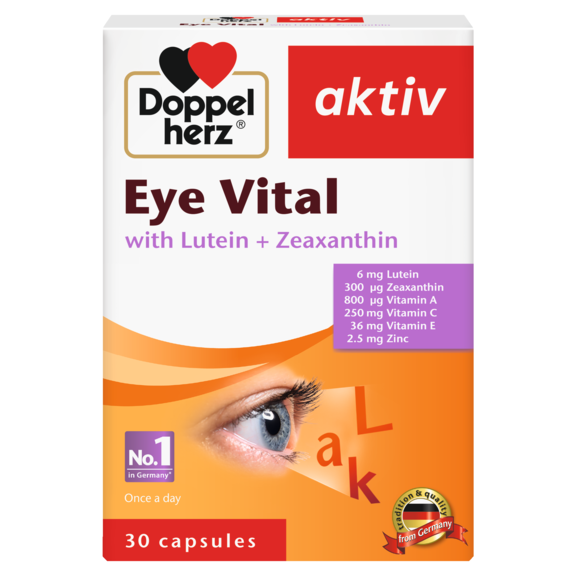 ---
To preserve vision while aging

Lutein and zeaxanthin concentrate in the retina where they play an important role

Vitamin A helps maintain normal vision
Lactosefree
Glutenfree
---
The eye is demanded every day.
Working at the computer, frequently watching TV and driving at night are particularly exhausting for the eye. Additionally, dry air, insufficient sleep and nicotine demands the eye's metabolism.
For the eyes' health and for eyesight, various factors play important roles, like for instance a good supply with nutrients such as vitamin A and the trace elements zinc. Since the body cannot make these nutrients by itself, it is necessary to supply them regularly and in sufficient quantities through the diet. In the case of a poorly-balanced diet, maintaining and optimal supply is not always easy.
Lutein and zeaxanthin occur in plant-based foods (e.g. green vegetables). A particularly high amount of lutein and zeaxanthin is found in a region of the eye called the macula lutea ("yellow spot").
Vitamin A contributes to the maintenance of normal vision. In this, it is supported by the trace elements zinc, which also contributes to normal vision and plays a role in the normal metabolism of vitamin A.
Vitamins C and E and the trace element zinc contribute to the protection of the cells from oxidative stress.
Composition
| Ingredients | per capsule |
| --- | --- |
| Lutein | 6 mg |
| Zeaxanthin | 300 µg |
| Vitamin A | 800 µg |
| Vitamin C | 250 mg |
| Vitamin E | 36 mg |
| Zinc | 2,5 mg |
Consumption recommendation
Take 1 capsule daily at meal with enough liquid. Do not chew.
Note
Do not exceed the stated recommended daily dosage! Food supplements should not be used as a substitute for a varied diet. The product should be stored out of reach of children. Not for children under the age of 10 years.
Ingredients
Ascorbic acid (Vitamin C), Gelatin (bovine), Soy bean oil, Glycerol, Soy bean oil (partly hydrogenated), DL-alpha-Tocopherol (Vitamin E), Lutein ester, Zinc gluconate, Beeswax yellow, Lecithins (soy), Sorbitol, Iron oxides and hydroxides, Retinyl palmitate (Vitamin A).
Reviews
No ratings have been submitted yet. Submit your first review here.