Doppelherz aktiv Magnesium 500 + Calcium + Potassium
Lactosefree
Glutenfree
Magnesium 500 + Calcium + Potassium
high dose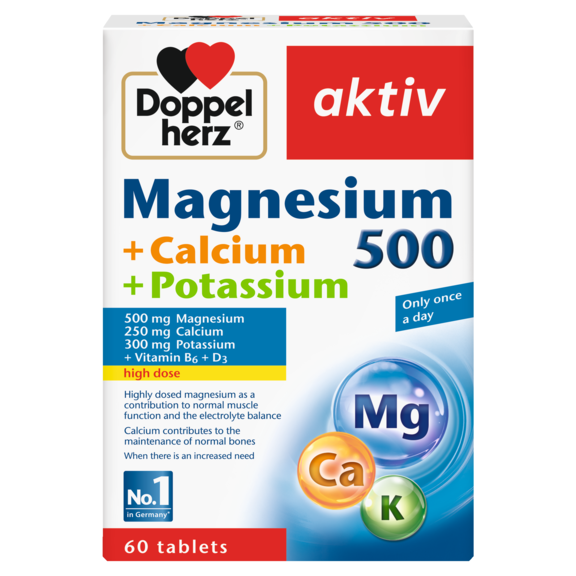 ---
500 mg Magnesium, 250 mg Calcium, 300 mg Potassium + Vitamin B6+ D3

Highly dosed magnesium as a contribution to normal muscle function and the electrolyte balance

Calcium contributes to the maintenance of normal bones

When there is an increased need
Lactosefree
Glutenfree
---
An optimal supply of minerals and vitamins is an important prerequisite for health and performance.
This also includes the muscles, the bones, the nervous system and the immune system.
Doppelherz Magnesium 500 + Calcium + Potassium supplies highly dosed magnesium in combination with the two minerals calcium and potassium, as well as vitamins D3 and B6.
Magnesium, calcium and potassium are essential minerals that work together in numerous metabolic processes in the body.
This affects the muscles, for example. The tablets from Doppelherz support the supply of magnesium when there is an increased need.
Recent research has shown that vitamin D is a real all-rounder for health. Nevertheless, many people ingest it in too small quantities with their food. Doppelherz tablets contain 20 μg vitamin D3 (800 IU = international units).
Magnesium contributes to normal energy-yielding metabolism, as well as to the normal functioning of the nervous system and to normal muscle function.
Magnesium contributes to electrolyte balance.
Calcium is an essential mineral nutrient and is needed for the maintenance of normal bones and teeth. In addition, Calcium contributes to normal muscle function and to normal blood clotting.
Potassium also contributes to normal functioning of the nervous system and to normal muscle function. Potassium contributes to the maintenance of normal blood pressure.
Vitamin B6 contributes to normal red blood cell formation. Additionally, Vitamin B6 contributes to normal protein and glycogen metabolism.
Vitamin D contributes to normal absorption/utilisation of calcium, to the maintenance of normal muscle function and normal bones.
Vitamin D contributes to the normal function of the immune system.
Composition
| Ingredients | per tablet |
| --- | --- |
| Magnesium | 500 mg |
| Calcium | 250 mg |
| Potassium | 300 mg |
| Vitamin D3 | 20 μg |
| Vitamin B6 | 1,4 mg |
Consumption recommendation
If you have an increased magnesium demand, take 1 tablet daily at meal with sufficient liquid. The tablets can also be divided into two halves if necessary.
Note
The recommended daily dose should not be exceeded. Dietary supplements are no substitute for a balanced and varied diet and a healthy lifestyle. Keep out of the reach of small children.
Amounts over 250 mg of magnesium can have a laxative effect for sensitive people.
Not suitable for children and adolescents,pregnant and breastfeeding women and people with impaired kidney function. People with kidney or heart disease should consult their doctor before taking potassium.
Store in a dry place at a temperature below 25 °C.
Ingredients
Magnesium oxide (Magnesium), Calcium carbonate (Calcium), Potassium chloride (Potassium), Microcrystalline cellulose, Polyvinylpyrrolidone, Hydroxypropyl methyl cellulose, Fatty acids, Magnesium salts of fatty acids, Cholecalciferol (Vitamin D3), Cross-linked sodium carboxy methyl cellulose, Polyethylene glycol, Starch, Sucrose esters of fatty acids, Talc, Vitamin B6 (Pyridoxine hydrochloride), Iron oxides and hydroxides.
Reviews
No ratings have been submitted yet. Submit your first review here.